LEMON DEMON NEWS

Blogger

Atom feed
Lemon Demon still exists : 09/27/2010 05:37 PM
ATTENTION DETROIT AND NEAR-DETROIT FANS! Youmacon 2010! October 28th-31st! Lemon Demon! Potter Puppet Pals! Anime! Youmacon.com! Buy your passes now! We'll be playing a big show on Friday, as well as a small encore show on Saturday, and a Potter Puppet Pals live performance on Sunday.

Whether or not you are a connoisseur of anime, I can assure you that such a convention is an experience that will make you question everything and greatly improve your life. Bring your friends!

AND! If you are too busy playing ROCK BAND 2 to go to anime conventions, you'll be pleased to know that you can purchase a totally great version of The Ultimate Showdown of Ultimate Destiny on the Rock Band Network for Xbox 360, as well as Playstation 3, and Wii.
New shirt!!! : 03/23/2009 09:42 AM

http://www.lemonkle.com/store

The new "Rocktopus" t-shirt is now available, in regular and baby-doll. Get a bunch for your whole family!
Toy Food : 01/19/2009 07:51 PM
http://www.youtube.com/watch?v=gVvhxwtFsnE
Watch this nonsense!

http://www.lemondemon.com/downloads/Toy%20Food.mp3
And listen to it!
No News : 12/29/2008 06:25 PM
Hey guys. I just thought I'd mention that Lemon Demon is slightly disabled at the moment-- I've been busy in general and have barely recorded any songs since View-Monster (aside from 123456 Pokemon and music for
New Kids on the Rock.)
Our drummer, Anthony Wry, has moved to Detroit, so we are currently without rhythm. Hopefully we can sort this out soon! In the meantime, the live band is on a little hiatus. I've been thinking a lot about how I can reform it, in addition to always having new music floating around in my head, so there's nothing permanent here. Just thought I'd keep this news blog thing filled in, in case anyone reads it!
Youmacon 08 : 10/09/2008 11:17 PM
Heads up, Lemon Demon (along with Potter Puppet Pals!) are returning to Youmacon, an anime convention in Michigan, this Halloween! We're gonna put on a great show for all the crazy anime people, and it's sure to be a completely memorable experience. Check out their website for info!
View-Monster is out : 08/01/2008 01:28 PM
View-Monster, my new CD, is now shipping. Buy it here! Hope you like it!

Also: Lemonic Demonade is on the 3rd. Be there or literally be square.
Deporitaz : 07/21/2008 01:51 PM
Just thought I'd mention that I finally fixed the download page's link to my old music as Deporitaz, which includes pretty much every song I released from ages 12 to 16.

I'm also working on getting the official forums restored to working order. I just have to wait for my host to install the 130 MB database file containing all the post and user data from when the forums were last operational earlier this year.

p.s. Remember to pre-order View-Monster!
View-Monster now available for pre-order! : 07/18/2008 05:45 PM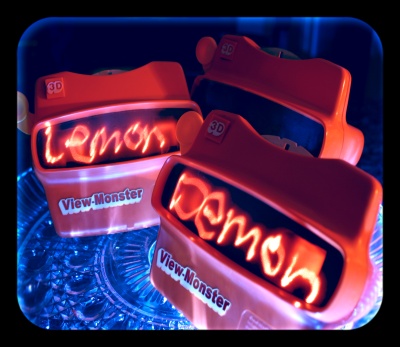 http://youtube.com/watch?v=SwNoTKJ5KVo

Current release date is August 1st, though this is just to be safe-- hopefully it'll be ready to ship even sooner than that!

CLICK HERE TO PRE-ORDER

Includes 16 full-on songs, 16 special transition tracks, 16 bonus songs, lyrics, trivia, and high fructose corn syrup.
Lemonic Demonade : 07/14/2008 01:21 PM
I just remembered this news section existed-- here's what's going on with Lemon Demon!

First of all, the new album is very close to being announced and put up for pre-sale! Keep an eye out here.

Second of all, on August 3rd, 2008, the third annual Lemonic Demonade will be happening, same place as usual. Click here for the FaceBook event page. If you happen to have a FaceBook account, please RSVP!

We've had this same party/show thing the past two years and it is always lots of FUN! Lets try to make this year even better! We will have a moonwalk (bouncy house thingy), hamburgers and hotdogs, lemonade and other drinks, cotton candy and other fun snacks, music and dancing, and other totally awesome things! MAYBE EVEN A CLOWN.

At some point in the day Lemon Demon will be playing a set for your entertainment, and we will also have an open mic for other people to come up and play because we don't have hours worth of material, so bring any instruments and any audial components you wish to entertain us with!

You're welcome to bring snacks, beverages, and any various knick-knacks you think will add to the party (example: a real working android, if you happen to have one or two.)
That's the description. The last two years were barrels of geeky fun for all, I assure you.
Here's the address:

15 Summer St
Kingston, MA 02364
USA
Festivities start at noon and stretch on into the night. Wooooooooooooooooooo!
REDESIGN! : 05/24/2008 10:48 PM
Welcome to the Lemon Demon website, new and improved. A couple things are still missing, but I'll get on it.